Mehrauli Archaeological Park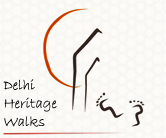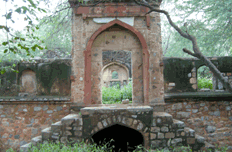 Popularly known as Jamali Kamali, this Park is unique in being dotted with ruins from early medieval times to the 19th century. Its main attractions include the mosque and tomb of Jamali, a stepwell and residence of a British official.
Meeting point :
entrance to the Mehrauli Archaeological Park. There is no signboard that names the park. You will see a vertical signboard in blue and yellow, which says 'Dilli Vikas Pradhikaran' in Hindi, outside a gate. That gate is the entry to the park & our meeting point.
Distance :
less than 2 kms
Duration :
about 2 hours
Date :
see
calendar of events
Time :
can be explored anytime between sunrise and sunset.
Who can come :
All are welcome. But, the terrain is rocky and some monuments are accessible only by steep steps. Might be uncomfortable for those who have difficulty walking
What to wear and carry :
• Walking shoes
• Lots of drinking water
• Covering for head for protection from the sun
How to get there :
• Metro: The nearest metro station is 'Qutub Minar' on yellow line. Exit from metro station and walk to your right, towards Delhi. The entrance to the Mehrauli A. Park is about 500 mts from the metro station & on your left.
• Auto/Car : If approaching from Aurobindo Marg or Mehrauli Badarpur Road, then the Park will be on your right, about 150 mts from Lado Sarai T-point/traffic light. You will need to take a u-turn to reach the entrance. If approaching from Gurgaon or Andheria More, the Park will be on your left, about 500 mts from Qutub Metro station.
• Bus: Buses going towards Lado Sarai will drop you at Ahimsa Sthal (a public park with a large statue of Mahavir high up on the rocks). Walk for about 150 mts towards Gurgaon, along the Mehrauli-Gurgaon road. The entry to the Park will be on your right.
• Map
Parking :
available within the Mehrauli Archaeological Park
Book now!