Chandni Chowk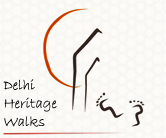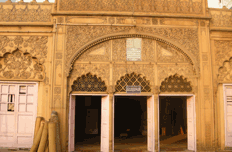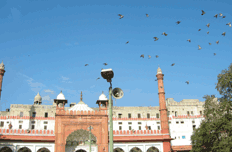 Chandni Chowk is the main street of the old city of Delhi (Shahjahanabad). Chandni Chowk, literally means moonlight square and derives its name from the fact that originally, a canal ran down the centre of the street with pools at major intersections which would reflect moonlight. Today, the stream is gone and Chandni Chowk is an extremely busy road. There are shops, schools, residences, places of worship, old and new along the road.
Meeting point :
Sri Digambar Jain Lal Mandir, opposite Red Fort
Distance :
approx. 1.5 kms
Duration :
about 2 hours
Date :
see
calendar of events
Time :
Best seen early morning between 8.00 a. to 10.00 am. Gets extremely crowded after that
Who can come :
All are welcome. Wheelchairs are ok early morning but impossible to negotiate later in the day.
What to wear and carry :
• Walking shoes
• Recommended that you carry some covering for your head, esp. useful when visiting religious sites. Avoid wearing shorts.
• Drinking water
How to get there :
• Metro: get down at 'Chandni Chowk' Metro station and take a rickshaw to the meeting point or walk
• Bus: Any bus coming to 'Red Fort' will drop you near our meeting point. In case you get dropped off at Delhi Railway Station (or Old Delhi Railway Station) take a rickshaw to the meeting point
• Auto/Cab: Get dropped off at Sri Digambar Jain Lal Mandir, opposite Red Fort.
• Map
Parking :
2 large parking facilities—one near Jama Masjid; second, called Gandhi Maidan Parking near Chandni Chowk Metro Station.
Book now!